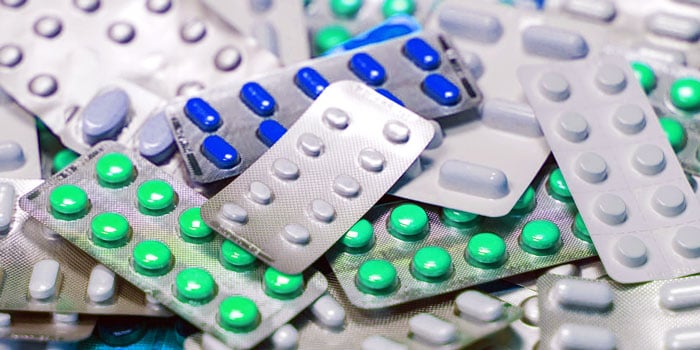 According to a government review, nearly 12 million people in the UK are being prescribed medicine that can cause dependence. Public Health England (PHE) found that half of these people have been on prescription medicines for a year or more, and more than a fifth for over three years. Prescribing rates are 1.5 times higher for women than for men.
The review looked at five categories of drugs – antidepressants, opioid painkillers, benzodiazepines prescribed mainly for anxiety, gabapentinoids for neuropathic pain and z-drugs for insomnia. The biggest numbers of people are on antidepressants, which are taken by 7.3 million people in England, or 17% of the adult population.
The widespread prescribing of pills needs to change, the review says. Many people are being prescribed high strength drugs for back or joint pain when these medications are intended for patients receiving cancer treatment or recovering from operations. Experts say that paracetamol or ibuprofen work just as well or better, with less associated risk.
The long-term prescribing of opioid pain medicines and benzodiazepines is not supported by medical guidelines. Many of these drugs become less effective as the body builds up a tolerance, meaning that increasingly higher does are needed to achieve the same results. These medicines were never intended for long term use and many have side effects that place stress on the heart, kidneys and lungs.
The main issue is that the addictive nature of many prescription drugs means that those who stop taking them may experience withdrawal symptoms that are made worse with long-term usage. Patients need the support and guidance of their GPs to withdraw, and GPs need more training in order to be able to provide this. Doctors also need better access to alternative treatments, such as therapy, physio, social support groups and guidance around exercise and nutrition.
Nationwide GP shortages have resulted in oversubscribed practices, with patients waiting weeks for appointments with overworked doctors. There simply isn't the time to treat each individual patient 'holistically', and this has led to a sharp rise in repeat prescription rates since the late 1990s. The review also showed that prescribing rates are higher and duration is longer in areas of deprivation, where there are some of the highest GP shortages. There's also a greater risk of misdiagnosis when medical staff are under pressure, leading to patients being prescribed drugs they simply don't need.
A new model of general practice has been proposed by the NHS, with multidisciplinary teams that incorporate the skills of other health professionals, such as physiotherapists, pharmacists and mental health professionals. It's hoped that these Primary Care Networks (PCNs) will increase the focus on preventive medicine and individual programmes of treatments for patients.
The misuse of prescription drugs is a major problem in the US where deaths from opioid overdoses have more than doubled in the past decade. Addiction has also led to a large illegal market for these medications. It's hoped that education around prescription drugs combined with improved access to alternatives will combat the problem in the UK before it reaches this scale.
To learn about other innovative ways the NHS is tackling staff shortages read our article here.
Amaze Umbrella offers a fully compliant payroll solution for NHS workers, to speak to a member of our team call: 0161 464 8993